This web page was created as an assignment for an undergraduate course at Davidson College.
Find out more about Epstein-Barr Virus Here!
---
Structure:
TAP is the Transporter Associated with Antigen Processing. It is a heterodimeric protein, made up of subunits TAP1 and TAP2, that is localized in the Endoplasmic Reticulum (ER). TAP is a member of the ATP-binding cassette (ABC) transporter family of proteins. These proteins require the binding of ATP in order to drive the transport of molecules. Each TAP subunit has an N-terminal membrane-spanning domain and a C-terminal ABC ATPase domain (Gaudet et al, 2001).
The ABC transporters contain two conserved sequences: the Walker A motif, also known as the P-loop, and the Walker B motif. The Walker A motif has been shown to bind the alpha and beta phosphates of di- and tri-nucleotides, while the function of the Walker B motif is less definitive (Gaudet et al, 2001).
In humans, the TAP genes are found in the MHC II locus on chromosome 6. Additionally, TAP is polymorphic, which can affect the specificity of the transporter (Lankat-Buttgereit et al, 2002).

Asymmetry of nucleotide-binding sites.
TAP1 contains two substitutions at the nucleotide binding site, both of which are involved in the gamma-phosphate binding and APT hydrolysis. First, TAP1 has a glutamate in place of histidine in the switch region. Second, TAP1 has an aspartate in place of a glutamate at the Walker B motif tail. It has been proposed that these substitutions provide the functional difference in TAP1 and TAP2 (Gaudet et al, 2001).
Figure 1: Chime Image of C-Terminal ATPase Domain of the Trasporter Associated with Antigen Processing (TAP).

http://www.rcsb.org/pdb/cgi/explore.cgi?pid=67091048181782&pdbId=1JJ7
Function:
The TAP complex (TAP1:TAP2) is the transmembrane transporter for degraded peptide fragments from the cytoplasm into the ER. It functions during the loading of peptides onto partially folded Major Histocompatability Complex Class I (MHC I). Within the ER, the partially folded MHC I alpha chains associate with Calnexin in order to maintain their structure. The beta2 microglobulin is then added to the alpha chains of MHC I (Janeway et al, 2001). Tapasin (TAP associated glycoprotein) associates with TAP and with the partially folded MHC I molecule, through amino acids in its N terminus to provide close range for entering peptide fragments (Raghuraman et al, 2002). Tapasin also allows up to four MHC I loading complexes to associate with a single TAP heterodimer (Barnden et al, 2000). Studies show that Tapasin is not required for peptide binding to the TAP complex, but the presence of Tapasin does stabilize the peptide binding site of TAP1:TAP2 (Raghuraman et al, 2002). Additionally, it has been shown that increased levels of Tapasin result in increased levels of TAP, and thus a higher rate of peptide translocation (Lankat-Buttgereit et al, 2002). Once a peptide is loaded, MHC I:peptide dissociates from the chaperone proteins and buds off the ER to travel to the cell surface.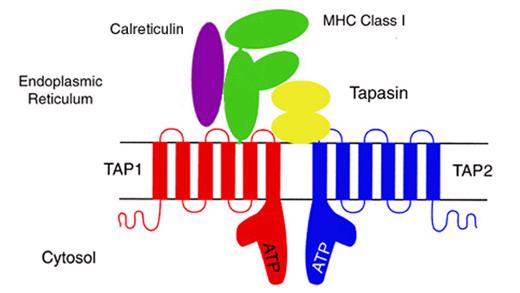 Figure 2: Peptide Loading Complex. The partially folded MHC I alpha chains and beta 2 microglobulin maintain their conformation by binding to Calreticulin. Tapasin interacts with both the partially folded MHC I and TAP1:TAP2 to facilitate peptide loading.
Figure courtesy of Dr Malini Raghavan
http://www.med.umich.edu/microbio/images/Figure1.jpg

Peptide Binding to TAP.
Peptides comprised of eight to sixteen amino acids bind to TAP with similar affinity. However, peptide translocation occurs most often for peptides eight to twelve amino acids in length. Experiments have shown peptides of up to 40 amino acids to translocate through the TAP complex. It appears that TAP binds peptides that are of optimal length, or slightly larger than those presented by MHC I. MHC I molecules generally load peptides of 8 to 10 amino acids long (Hewitt et al, 2001).

Conditions Associated with TAP mutations/deletions:
HLA-I Deficiency.
HLA-I Deficiency is a rare disease with less than 25 described cases. This disease is associated with respiratory bacterial infections and chronic bacterial colonization of the lungs in late childhood. Most of the reported cases are the result of functional TAP2 deficiency. However, two patients, who also presented with skin lesions, were determined to have a functional deficiency in TAP1 (Lankat-Buttgereit et al, 2001).
Interestingly, some peptides can be loaded in TAP1+TAP2- cells, but not TAP1-TAP2+ cells. This finding agrees with earlier studies which showed that the interaction of TAP with MHC I occurs at the TAP1 subunit (de la Salle et al, 1999).
Virus Infection.
Human Cytomegalovirus (HCMV) encodes the glycoprotein US6, an integral membrane ER-resident protein. Experimental data indicate that US6 inhibits the function of TAP. First, US6 binds to TAP and prevents the binding of ATP, which is required for peptide translocation. Additionally, TAP inhibits the conformational change that is associated with peptide binding (Hewitt et al, 2001).
Herpes Simplex Virus (HSV) encodes the protein ICP47, which is also involved in the inhibition of the TAP complex. Unlike US6, ICP47 associates with the peptide binding domain of TAP rather than the ATP binding domain. Experiments demonstrate that only residues 14-34 of the 88 amino acid protein are involved in inhibiting the peptide binding domain (Lacaille et al, 1998).
Both of these viruses attempt to avoid detection by the body's immune system. By targeting the protein involved in peptide translocation, the virus can prevent its peptide fragments from being loaded onto an MHC I and from being presented at the cell surface. This mechanism allows the virus to replicate virtually undetected in the infected cell.

Effects of Cytokines:
Interferon-Gamma has been shown to upregulate the production of TAP1 and TAP2 as much as 10-20 fold within just 12 hours of stimulation. Additionally, TNF-alpha has shown to upregulate TAP 1, but only during in vitro experiments. In contrast, the cytokine Interleukin-10 reduces the expression of TAP (Lankat-Buttgereit et al, 2001).

References:

Barden MJ, Purcell AW, Gorman JJ, McCluskey J. 2000. Tapasin-Mediated Retention of Optimization of Peptide Ligands During Assembly of Class I Molecules. The Journal of Immunology. 165: 322-330.

de la Salle H, et al. 1999. HLA Class I Deficiencies Due to Mutations in Subunit 1 of the Peptide Transporter TAP1. The Journal of Clinical Investigation. 103: R9-R13.
Gaudet R, Wiley DC. 2001. Structure of the ABC ATPase Domainof human TAP1, the Transporter Associated with Antigen Processing.. The EMBO Journal. 20: 4964-4972.

Hewitt EW, Gupta SS, Lehner PJ. 2001. The Human Cytomegalovirus Gene Product US6 Inhibits APT Binding by TAP. The EMBO Journal. 20: 387-396.

Janeway CA, Travers P, Walport M, Shlomchik M. Immunobiology: The Immune System in Health and Disease. 5th Edition. New York: Garland Publishing.

Lacaille VG, Androwlewicz MJ. 1998. Herpes Simplex Virus Inhibitor ICP47 Destablilizes the Tranporter Associated with Antigen Processing (TAP) Heterodimer. Journal of Biological Chemistry. 273: 17386-17390.

Lankat-Buttgereit B, Tampe R. 2002. The Transporter Associated With Antigen Processing: Function and Implications in Human Diseases. Physiological Review. 82: 187-204.

Protein Data Bank. <http://www.rcsb.org/pdb/cgi/explore.cgi?pid=67091048181782&pdbId=1JJ7> Accessed 17 March 2003.

Raghuraman G, Lapinski PE, Raghavan M. 2002. Tapasin Interacts with the Membrane-spanning Domains of Both TAP Subunits and Enhances the Structural Stability of TAP1-TAP2 Complexes. Journal of Biological Chemistry. 277: 41786-41794.



For more information on the TAP complex, click here.
---

This page was created by Elizabeth Spitz
Davidson Biology Department Home Page