This web page was produced as an assignment for an undergraduate course at Davidson College.
---
Got Immunology?
This is me and Smokey the Bear.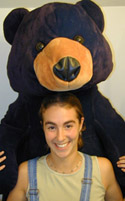 (I'm the one on the bottom!)


My name is Meredith Gramer. I am a senior biology major at Davidson College, a small liberal arts school in North Carolina. This home page was created as part of an assignment for my Immunology class (aka Bio 307). This is my first attempt at web page design...how am I doing?

Interested in immunology? Here's a link to my favorite immune protein, Interferon-gamma and my favorite immune related disorder, toxic shock syndrome.
For more information about immunology, check out the Davidson College Immunology Page


---
Please send any comments, questions, or concerns to:
megramer@davidson.edu
© Copyright 2000 420 Beaty St. Davidson, NC