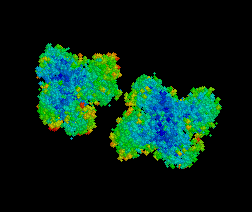 PFK molecule. Click to view using Rasmol.
Click for sequence information:
Saccharomyces cerevisiae (baker's yeast) 6-phosphofructokinase alpha subunit a.a. sequence.
Homo sapiens (human) muscle phosphofructokinase (PFKM), complete 2815 bp cDNA.
Drosophila melanogaster phosphofructokinase (pfk), complete 7101 bp DNA with a.a. translation and splicing information.
Caenorhabditis elegans 756 a.a. sequence.
Mus musculus (house mouse) 780 a.a. sequence.



Direct correspondence to: bebuxton@davidson.edu