John Roe's Biology Page
Welcome to the world of nature. This site is for the appretiation of the great outdoors, as well as some cool laboratory type molecular stuff. If your interest is in the skinks of the Australian Rainforest, this is the place for you. If you like to fish, well, soon there will be links to different fishing holes around the web (just as soon as I can get this molecular stuff out of the way). For all of you molecular heads, there is plenty for you too. Follow the hottest new methods and research directions via this web page, and when you get boredwith that, step back into the world of the virtual outdoors.
If you would like to see my RESUME, click here.
---
HERPETOLOGY: Here is a picture of an Australian reptile : the skink Glaphyromorphus fuscicaudis.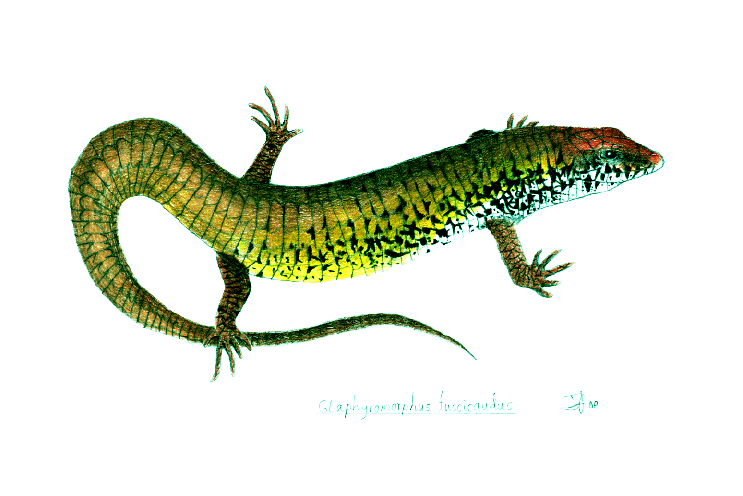 Figure 1. This skink is somewhat of a rainforest specialist. Without the cool soil and air temperatures, the shade, the diversity of vegetation, the humidity and the ground debris (dead wood and matted leaves) provided by a mature rainforest, this reptile would probably not survive. It is endemic to the rainforests of Queensland, Australia, and grows to a length of about 10 inches.
Herpetofauna of Queensland Australia
Lizards of The Australian Wet Tropics
My Research paper on the Feeding behavior of terrestrial and aquatic snakes
---
Ichthyology: For me, this is the study of how to catch more fish. Here is a picture, drawn by myself, of Salvelinus confluentus.
Figure 2. This is the Bull Trout, but is technically not a trout. It is in fact, a char. Char differ from trout in many ways, but the identification is fairly easy. While trout have dark spots against a light background, the char have light spots (called vermiculations) against a dark background. Char usually occupy colder waters as well, as seen in the Arctic Char and the Brook Trout, which inhabit the cold northern lakes and rivers and the highlands of the appalachian mountains, respectively.
---
MOLECULAR BIOLOGY: Here is the molecular stuff you have been waiting for. Enjoy!

Figure 3. This is an image of a DNA molecule taken from Brian White's homepage at MIT.
A molecular method: SDS/Polyacrylamide Gel Electrophoresis.
Test Related Question for Exam #2
---
If you would like to see what the other students are doing, or if you want to learn more about Molecular Biology at Davidson, you can return to the Molecular Biology Home Page.

---
---
---
© Copyright 2000 Department of Biology, Davidson College, Davidson, NC 28036
Send comments, questions, and suggestions to:joroe@davidson.edu