Nicole Hesson's Molecular Biology Web Page
This web page was produced as an assignment for an undergraduate course at Davidson College.
---


The goal of this semesterís lab is to clone all five IDH genes from Saccharomyces cerevisiae using PCR and express the encoded proteins in bacteria.† After using the yeast gene as a probe to see if it hybridizes any orthologs from yeast, we will perform enzyme assays to determine if the genes retain their properties when expressed in a prokaryote. The experiment is described in more detail on the weekly protocol page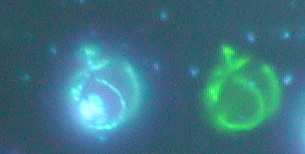 Figure 1: Wildtype W303 cells with GFP imported in mitochondria and DNA stained with dapi.
Image provided by Teresa Rinaldi

Project 1: Describe the five IDH Genes.

IDH1
<![if !supportEmptyParas]> <![endif]>
Project 2: Structure and Orthologs
<![if !supportEmptyParas]> <![endif]>
Project 3: Paper Review
†
---
Fantastic Resources for Yeast Information
---
References
Molecular Biology (BIO 304), 2002. "Spring 2002 Lab Project Explained." bio.davidson.edu/Courses/Molbio/labcontext.html
Purves, W.K., et al. 1998. Life: The Science of Biology, 5th Ed. Sinauer Associates, MA.
Questions, Comments or Concerns?