this site is maintained by Nona Poulton under the supervision of Dr. A. Malcolm Campbell as part of the course requirements of Molecular Biology (Bio 304) at Davidson College, Davidson NC.
---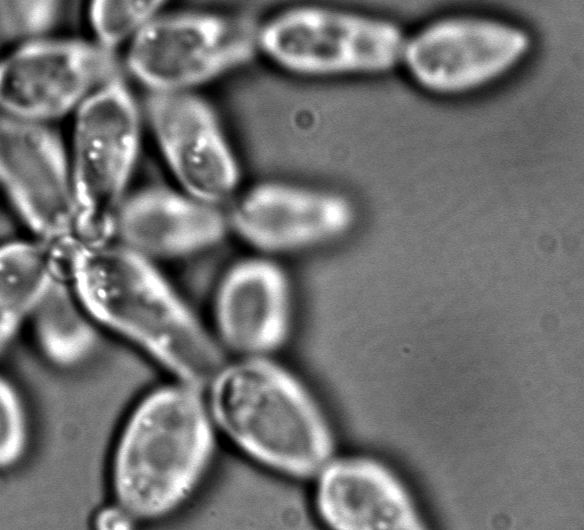 Saccharomyces cerevisiae image provided by Peter Hollenhorst and Catherine Fox
Molecular Biology Research Project: In this class we are cloning five genes of saccharomyces cerevisiae, or common baking yeast. These genes are IDH1, IDH2, IDP1, IDP2, and IDP3. Saccharomyces cervisiae was one of the first organisms to have its entire genome sequenced. In this lab, we workto clone five of its genes, express them in a prokaryotic vector, and prove that we have done so. Additional information about these genes can be found in the links below.
Basic Project Overview:
January: Set up experiment. This includes designing PCR primers as well as purifying the yeast genomic DNA using Qiagen's DNeasy Kit.
February: Amplify the five genes via PCR. Clean the PCR product, ligate it, and transform it into the expression vector PQE-30 UA. Once the genes have been expressed, they will be digested with restriction enzymes and electrophoresed to determine correct gene and correct gene orientation. A southern blot is necessary.
March: Test orthologs against the DNA product. Then enduce protein production, isolate the protein, and run SDS-PAGE.
April: Finish western blot via immunostaining and determine molecular weights. Also determine NAD+ and NADP+ specificity of the protein product.
---

© Copyright 2002 Department of Biology, Davidson College, Davidson, NC 28035
Send comments, questions, and suggestions to: nopoulton@davidson.edu