"This web page was produced as an assignment for an undergraduate course at Davidson College."
IDH2
Accession Number: Z75043 and GI:1420345
Gene Information:
This gene is found on chromosome XV. This gene performs much of the same functions as IDH1, namely this gene takes is a part of glutamate biosynthesis, isocitrate metabolism, and the tricarboxylic acid cycle. The gene product is NAD-dependent isocitrate dehydrogenase which is located in the mitochondrial matrix. (http://genome-www4.stanford.edu/cgi-bin/SGD/locus.pl?locus=IDH2)
Protein Information:
Protein Information (http://www.ncbi.nlm.nih.gov/entrez/query.fcgi?cmd=Retrieve&db=protein&list_uids=1420347&dopt=GenPept)
Amino Acid Sequence
1 mlrntffrnt srrflatvkq psigrytgkp npstgkytvs fiegdgigpe isksvkkifs
61 aanvpiewes cdvspifvng lttipdpavq sitknlvalk gplatpigkg hrslnltlrk
121 tfglfanvrp aksiegfktt yenvdlvlir entegeysgi ehivcpgvvq siklitrdas
181 erviryafey araigrprvi vvhkstiqrl adglfvnvak elskeypdlt letelidnsv
241 lkvvtnpsay tdavsvcpnl ygdilsdlns glsagslglt psanighkis ifeavhgsap
301 diagqdkanp talllssvmm lnhmgltnha dqiqnavlst iasgpenrtg dlagtattss
361 fteavikrl
Genbank Open Reading Frame Finder (must enter accession number). This site shows the gene sequence as well as the amino acid sequence together.
6-Cutter Restriction Sites:
<![if !vml]>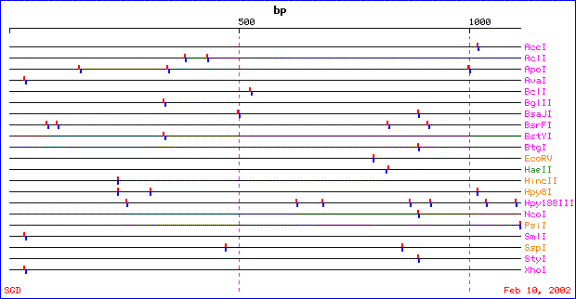 <![endif]>
Fig. 2 This is a restriction map of six-cutter restriction enzymes for the IDH2 gene from the Saccharomyces Genome Database. (http://genome-www.stanford.edu/Saccharomyces/tips/tip6_remap.html, first erase the content in the box entitled Type or Paste DNA Sequence. Then one must enter gene name in box entitled Enter a Sequence Name and finally select in the Choose Restriction Enzymes box "six-base cutters")
PCR Primer:
IDH2 Forward: 5' ATGTTGAGAAATACTTTTTTTTAG 3' Tm= 45° C
IDH2 Reverse: 5' TTATAATCTCTTGATGACTG 3' Tm=44° C
In-Frame Fusion Protein of His6-IDH:
Histidine-Histidine-Histidine-Histidine-Histidine-Histidine-Methionine-Leucine-Arginine-Asparagine-Threonine-Phenylalanine-Phenylalanine-Arginine-Asparagine-Threonine
Coenzyme:
NAD+
---
For questions or comments contact elsellars@davidson.edu