Helping Students Discover Genomics, Proteomics and Bioinformatics
---

GCAT helps faculty bring genomics to undergraduates

---
May generous labs have supplied GCAT with DNA microarrays:
Pat Brown and Barbara Dunn (Stanford University) - yeast
Lee Hood and Krassen Dimitrov (Institute for Systems Biology) - yeast and Halophilic bacterium
Ellen Wisman (Michigan State University) - Arabidopsis
Fred Blattner and Tim Durfee(University of Wisconsin-Madison) - E. coli
Richard Bookman (University of Miami) - partial human and mouse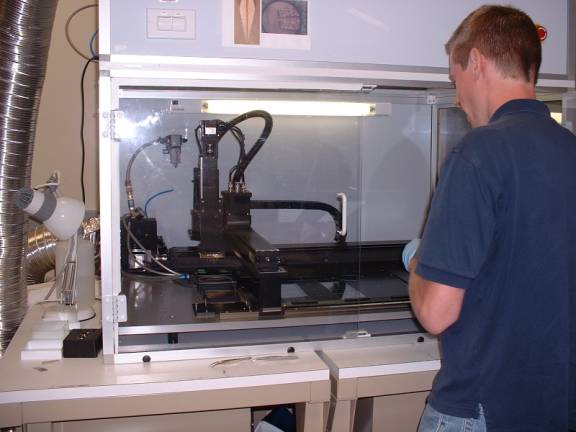 Bruz Marzdorf producing yeast chips at the Institute for Systems Biology in Seattle.
---
You can always spot GCAT participants - they cluster together.

Jay Brewster and his students (from Pepperdine University) probe Universal Studios
(just as they dropped off of a large ramp in the Jurassic Park ride).
The front row is all GCAT.
---
Community of Teachers and Students
Student Friendly/Proof Protocols
117 subscribers to GCAT-L as of December, 2002
Assessment of GCAT participants (see Mark Salata's poster on Tuesday; #2335)
Learning outcomes

Student attitudes
---
---
© Copyright 2003 Department of Biology, Davidson College, Davidson, NC 28035
Send comments, questions, and suggestions to: macampbell@davidson.edu