Protein-Protein Interactions
Discovery Question
---
If you want to find out which proteins interact with your favorite protein, then DIP (Database of Interacting Proteins) is your place. Go to http://dip.doe-mbi.ucla.edu/dip/Search.cgi?SM=3 and enter your favorite protein into the "node" field (you can try Sup35 which is the prion-like protein in yeast).
You will get a short table that looks like this:

Notice where the cursor is (bottom left). Click on the code under the DIP Node heading.
In a new browser window, you will get another page that looks like this: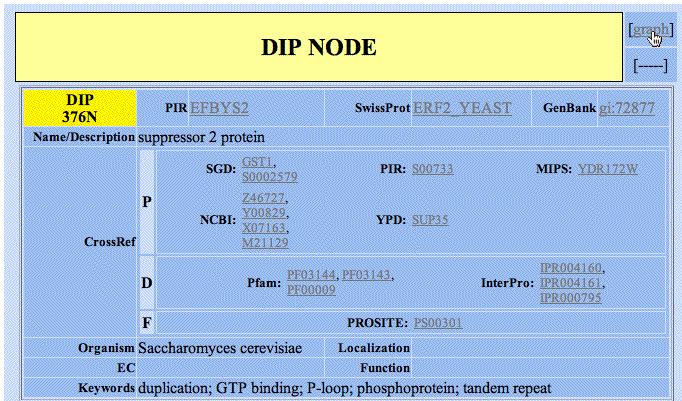 You want to click on the link that says "graph" as shown in the top right corner.
Now you should see a linkage map that illustrates your favorite protein (red node, or dot) connected to many other nodes. Each node is a protein and you can click on each node to find out more about each protein in the network.
---
---

Send comments, questions, and suggestions to: macampbell@davidson.edu
or (704) 894 - 2692

© Copyright 2002 Department of Biology, Davidson College, Davidson, NC 28035