Use the WWW as a Supplement
The world wide web (WWW) can provide visual examples that are not available in the text, as well as free software to view molecules in 3D-like representations. In addition, there are movies and animations which graphically illustrate certain concepts better than traditional methods. These WWW sites can be assigned as focused readings and are available to students anywhere on campus and at any time.
---
Here are three frames from a movie showing phase contrast and fluorescent calcium indicator dye images during the time when this sea urchin egg was being fertilized.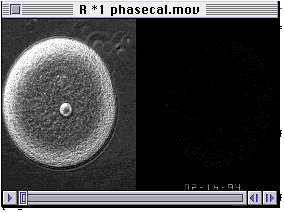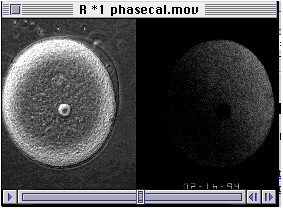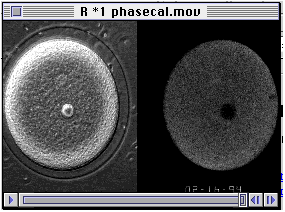 The movie from which these frames were taken can be accessed from the Davidson College Biology Department's Movie Home Page.
---
---
© Copyright 2000 Department of Biology, Davidson College, Davidson, NC 28036
Send comments, questions, and suggestions to: macampbell@davidson.edu