This web page was produced as an assignment for an undergraduate course at Davidson College.
An unknown yeast gene: YDR078C
What can you do with an ORF whose molecular function and biological involvement is unknown?
SGD registry:
The soon-to-be inspiring yeast gene, YDR078C, is best summarized on the SGD (Sacchromyces Gene Database) maintained by Stanford University. It was mapped in 2000 in a genome-wide attempt to characterize all possible ORFs and to provide a location for information on gene ontology that future research might reveal. Its null phenotype is viable and it is located on Chromosome IV.
Blast Analysis:
Protein BLAST shows no homology to any known genes. The highest degree of homology is with a sequence on Chromosome XVI. However, this is relatively unremarkable. Here are the BLASTp results. The gene product is probably not highly conserved across species.
Nucleotide BLAST also did not reveal any conclusive similarities, indicating the sequence is not highly conserved across species. Here are the BLASTn results.
FASTA analysis:
Hydropathy analysis of YDR078C is below.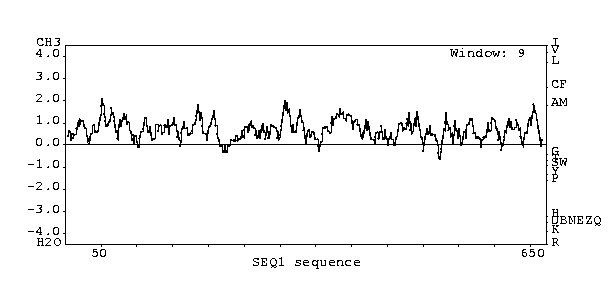 FASTA analysis does not reveal anything exceptionally exciting. At approximately 50, 300 and perhaps 650 the peaks are close to 2.0, indicating possible transmembrane domains.
FASTA analysis was run here.
J. Kyte and R. F. Doolittle (1982) J. Mol. Biol. 157:105-132
YDR078C's location on Chromosome IV: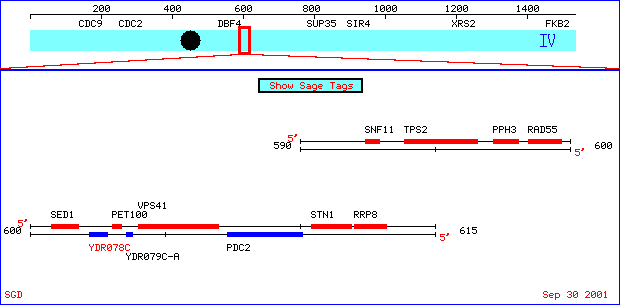 Glance down towards the bottom right corner and you can see YDR078C written in red-lettering. For an interactive version of this map, visit this site.
The Coding Sequence:
1 ATGTCGAAGG ATGTAATAGA ATACTCTAAA TTATTTGCTA AACTGGTTAA
51 CACAAACGAT GATACAAAAC TGGATGATAC AATAGCATCC TTCTTATATT
101 ATATGTTTCC AAGGGAACTA TTTATTCGAG CAATTTCATT ACTAGAATCT
151 TCAGACATGT TTATATACAT ATTAGATAGA GTCCATAACA AGGAAGGTAA
201 TGAGCATACA TCATTGATTG ATGTGTTAGT TGATGAATTT TATAAGGGTT
251 CATCTAATTC GCTCCTGGAG TATCGCTTAA TAGTGAAGGA TACTAATGAT
301 GGAGCGCCAC CAATACTCGT AGATATCGCA CACTGGTTCT GCTCATGTGA
351 AGAGTTTTGT AAATACTTTC ATGAAGCACT AGAAAAAACT GACGAAAAAG
401 AAGAATTACA CGATGTGCTA ATAAATGAAG TTGATGATCA TTTGCAATTT
451 TCGGATGATA GGTTTGCACA GCTGGATCCT CATAGCTTAT CAAAGCAGTG
501 GTATTTCAAA TTTGATAAAG TTTGTTGTTC GCATCTACTG GCGTTCTCCA
551 TTTTGCTTAG ATCTTCCATA AATGTGCTGA AGTTTTTCAC TGTGAACTCG
601 AATAAAGTTT TCGTTATAGC AATAGATAAT ATCGACGAGT GGTTAAACTT
651 GCACATCAAC ATAGTTGAGT AA
Sequence found on the SGD.
References:
1. http://genome-www4.stanford.edu/cgi-bin/SGD/locus.pl?featureName=YDR078C. SGD entry on YDR078C. Last accessed on October 1, 2001.
2. http://fasta.bioch.virginia.edu/fasta/grease.htm. Kyte-Doolittle Hydropathy plot was made here. Last accessed on October 1, 2001.
3. http://genome-www4.stanford.edu/cgi-bin/SGD/ORFMAP/ORFmap?sgdid=S0002485. Chromosome location of YDR078C. Last accessed on October 1, 2001.
Email me at: amhartman@davidson.edu
Return to my home page
Return to the Davidson College Biology Department