BBB National Biological Honor Society - Tau Omega Chapter at Davidson college
The Tau Omega Chapter of Beta Beta Beta was installed at Davidson College on April 28, 1995. TriBeta is an honor and professional society for students of the biological sciences, particularly undergraduates. It seeks to encourage scholarly attainment, to cultivate intellectual interest in the life sciences, and to promote a better appreciation of the value of biological study It encourages undergraduate research and "emphasizes a three-fold program: stimulation of scholarship; dissemination of scientific knowledge; and promotion of biological research." Beta Beta Beta members receive Bios, a journal of scientific reports by members of the society. Members can submit original research articles to this journal for publication and can present papers at district and national conventions of the organization. Members and chapters are also eligible to compete for various awards given by the national organization.
The Tau Omega Chapter invites students to become regular members during their junior and senior year of study. The requirements for membership are:
declaration of biology as a major
completion of at least three courses in biology
a 3.2 GPA in the major.
The initiation fee for regular members is $45 for a life membership. Biology majors who do not meet all the criteria may be invited as Associate members if they express interest in contributing to the goals of the organization. The initiation fee for Associate members is $35. Associate members may become regular members if they meet the requirements of membership and pay an additional $10. Membership invitations are sent to eligible students each spring semester. The initiation ceremony for new members occurs at the end of April. Local chapters, such as Tau Omega, hold business meetings, sponsor presentations of scientific research by students or outside speakers, and undertake various projects, most notably the annual Darwin Birthday Party. The charter, coat of arms and key of the Tau Omega Chapter of Beta Beta Beta are located in the Biology Department office.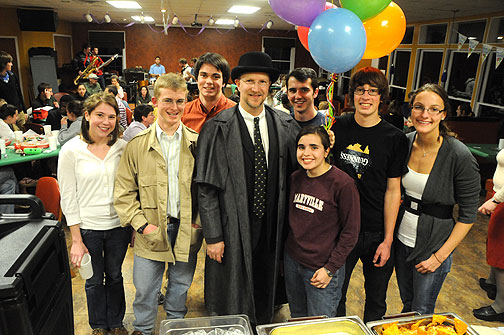 Celebrating Darwin's 200th Birthday
Annual Graduation Festivities
Each year I celebrate the tremendous accomplishments of my graduating advisees and research students by cooking a feast in their honor and inviting all their friends and family members.
And then there is the traditional toast!
Recreational Activities
Folk dancing
English-Scottish Ball at Swarthmore College run by the Delaware chapter of RSCDS
Uechi Ryu Karate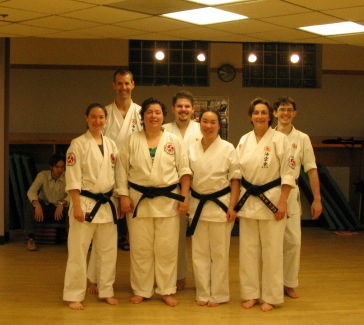 Washington Karate Academy black belt test