*This web page was produced as an assignment for an undergraduate course at Davidson College.
Cellular Response to N. fowleri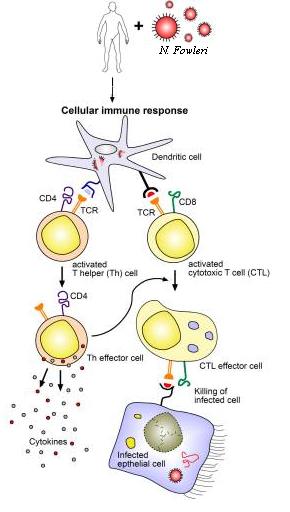 A cellular immune response is possible with non-pathogenic strains of N. fowleri. N. fowleri can be taken up by antigen-presenting cells after they have been tagged by antibodies (Anzil, 1991).The APC then travels to the lymph nodes where they present the antigen to CD8+ cytotoxic T cells and CD4+ helper T cells. The B cells are also activated and they produce more antigen-specific antibodies. To see how pathogenic N. fowleri evades this, please see Evasion of the Immune System.
http://www.influenzareport.com/ir/images/image27.jpg

If you have any question or suggestions regarding this site, please contact Alex Kim (alkim@davidson.edu)