Al Vichot's Immunology Homepage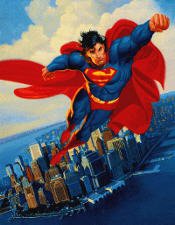 I am not the biggest Superman fan. I just decided to put his picture on my homepage. No reason really. However, drawing is one of my favorite hobbies. I think it would be pretty cool if I could draw a picture like the one above. Anyway, I'll stop my choppy rambling and explain the purpose of this page. This page will contain links to all of the projects Dr. Campbell has assigned to us. I guess that is all I have to say.
Click here to view my first web assignment where I describe the various aspects of my favorite protein.
Click here to view my paper on Osteoarthritis.

---
Return to Davidson College Biology Homepage
---

---
© Copyright 2000 Department of Biology, Davidson College, Davidson, NC 28036
If you have any questions, please email me at alvichot@davidson.edu