This web page was produced as an assignment for an undergraduate course at Davidson College.

Rachel Patton McCord
BIO 309: Genomics, Proteomics, and Bioinformatics
Fall 2003
Genomics Web Pages:
Popular Press vs. Scientific Literature: The Susceptibility to Depression Gene
Annotated and Non-Annotated Yeast Genes- GPA1 and YHR003C
My Favorite Yeast Expression: GPA1 and YHR003C Expression Patterns
My Favorite Yeast Protein: GPA1 and YHR003C Proteomic Data
Other Web Pages:
Rachel's Molecular Biology Home Page
Davidson College Center for Interdisciplinary Studies (CIS) - This link gives information about Davidson's CIS, the program through which I have designed my own major in biophysics.
Student Research with Dr. Yukich- This webpage includes information (under link to students on the left) about my senior thesis work with optical tweezers.
Optical Tweezers- Senior Thesis Research- A powerpoint presentation about my optical tweezers work during the summer of 2003.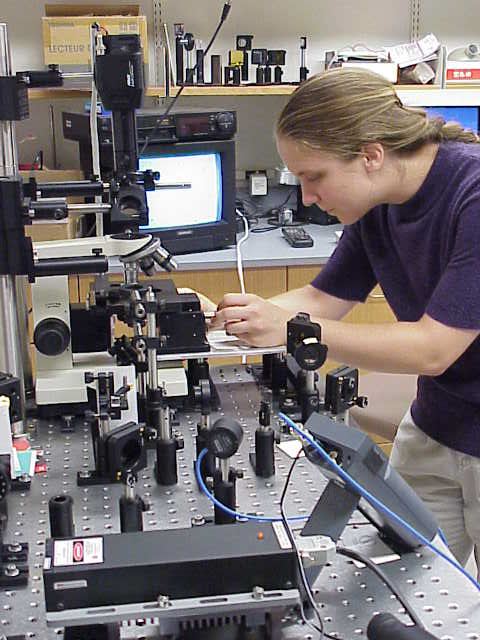 A picture of me working on the optical tweezers apparatus which I constructed. (Photo by Dr. Malcolm Campbell)
Questions or Comments? Please e-mail Rachel Patton McCord