GCAT Assessment Online
---
Dear GCAT participants,
GCAT participation includes the use of standardized assessment. To make this process easier and faster, we have launched an new online system.
Each student self-registers when he or she is ready to take the pre-survey.
Students must complete the entire survey at one sitting. Below are the results from 2009-2010 showing that students who worked with GCAT resources performed better on a series of 12 questions than a group of control students who only studied DNA microarrays as part of their lecture courses. The difference between the GCAT students and the control students was significant (p < 0.01).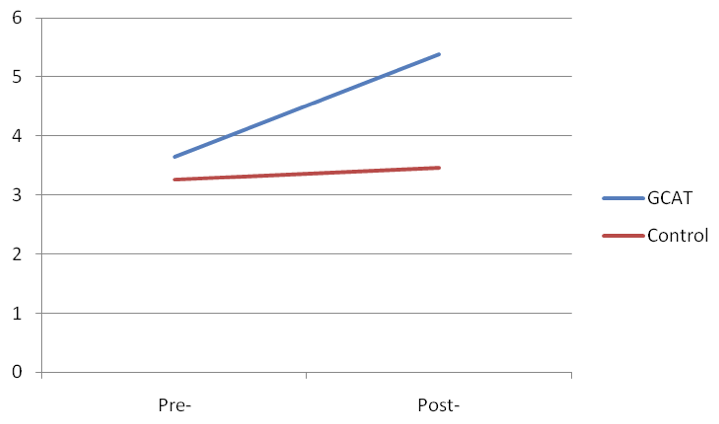 Faculty Should have their students:
Each Faculty member will:
1) Fill out a form at the end of the semester or project. (< 5 minutes).
Faculty can verify their students' participation.
Password is emailed to instructors upon request to Malcolm (macampbell@davidson.edu)
Report of 2006 - 2007 academic year.

Report for 2007 - 2008 academic year.

Report for 2008 - 2009 academic year.

Report for 2009 - 2010 academic year

Report for 2010 - 2011 academic year
---
How GCAT Works

1) Malcolm Campbell collects requests for DNA chips; currently several species are available.

2) GCAT obtains microarrays from academic and commerical suppliers with HHMI funds.

3) Campbell distributes chips to faculty teaching undergraduates.

4) Undergraduates conduct experiments.
---
If you have any questions or would like to participate, contact Dr. A. Malcolm Campbell
Dr. A. Malcolm Campbell, Director of GCAT
Biology Department
Davidson College
P. O. Box 7118
Davidson, NC 28035

phone: (704) 894-2692
fax: (704) 894-2512
email: macampbell@davidson.edu

© Copyright 2010 Department of Biology, Davidson College, Davidson, NC 28035
Send comments, questions, and suggestions to: macampbell@davidson.edu